TOPSAIL BAPTIST CHURCH WELCOMES YOU TO AWANA CHILDREN'S AND YOUTH PROGRAM!
A
WANA - WHERE VACATION BIBLE SCHOOL LASTS ALL YEAR LONG!
To save time at registration, download the application (or right click on the image for options), then print and fill out ahead of time! There needs to be only one application per family. Kids are welcome to join us any time during the AWANA year! It doesn't matter what church you go to, our AWANA program is open to everyone!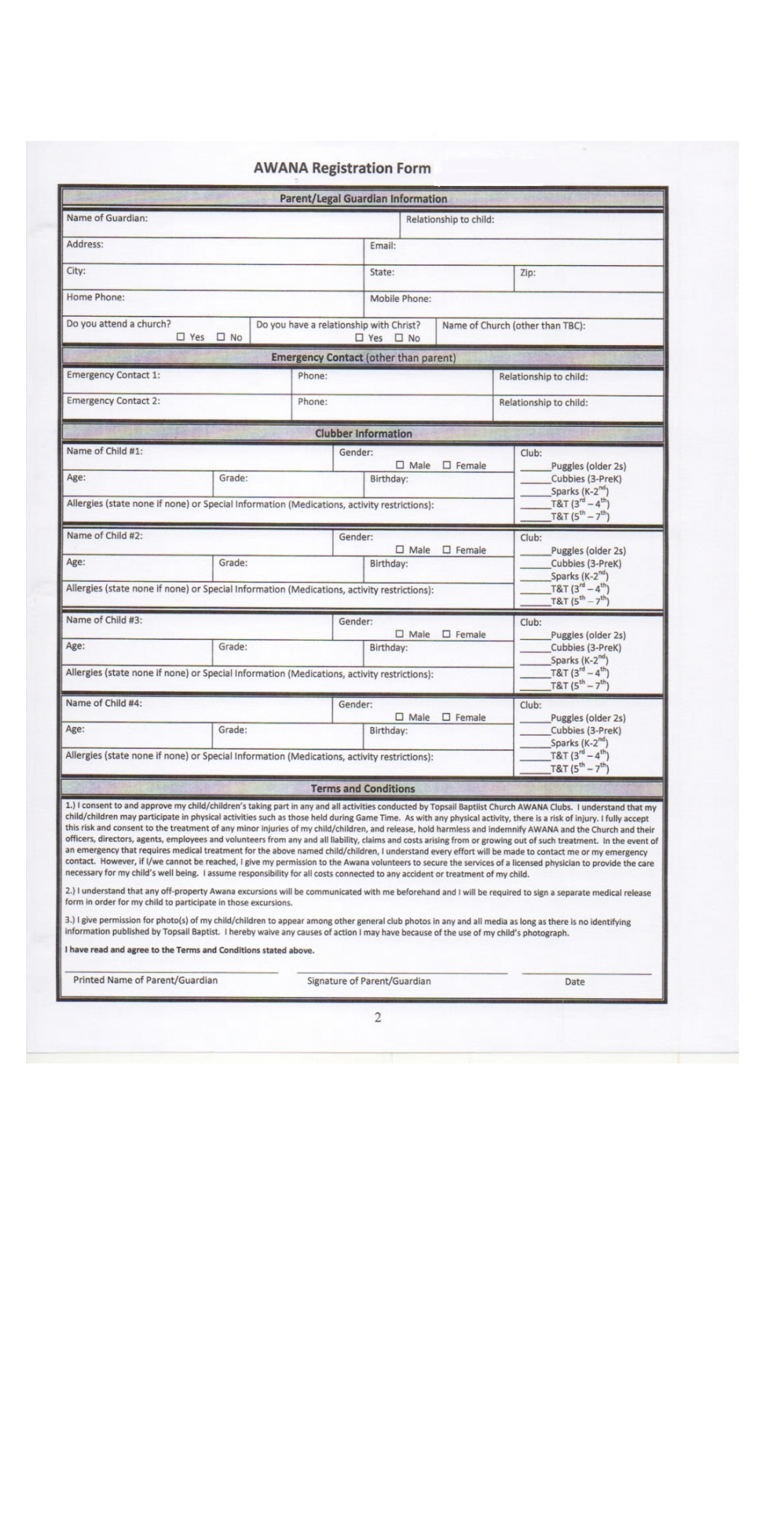 Hello, and thank you for visiting our youth page! Topsail Baptist Church has been involved with our community youth program for several years! AWANA, which stands for
A
pproved
W
orkman
A
re
N
ot
A
shamed, originates from 2 Timothy 2:15, which states,
"Study to shew thyself approved unto God, a workman that needeth not to be ashamed, rightly dividing the word of truth."
We believe in being AWANA-like throughout the year and equipping children with God's Truth as they go forth into the world we are living. We, ourselves, want to live our best for Christ; our hearts' desire is to share that love we have for Him with your kiddos.
HOW?

Personal family attention! Our desire is to MINISTER to your children while they are with us. We want to be a friend and give them the personal attention they need!
WHO? All children ages Pre-K through early teens ... and, their families! All kids are welcome, they don't have to be a member of our church, or any church, to go to AWANA.. we love them all!


WHAT?

AWANA is designed to bring the same kind of Vacation Bible School style and excitement each-and-every-week! We have a study session with kids (divided into age-specific groups), games, snacks, and awards! PLUS, we have LOADS of special events planned throughout the year!

WHEN?

Sunday evenings from 5:30pm-7pm the months of September through May

WHERE?

Right here at our Topsail Baptist location